Doyle Brunson, Poker Legend
Texan Doyle Brunson is a poker legend. As well as collecting over $5 million in tournament winnings, Brunson has a world record win of ten World Series of Poker events, including the two back-to-back world championships.
Doyle Brunson Biography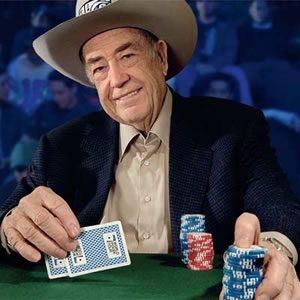 Born on August 10,1933 in born in the small Texas town of Longworth, Brunson attended the Hardin-Simmons University on an athletic scholarship.
His athletic ability saw him drafted to play for the Minneapolis Lakers, however this career was never commenced with Brunson suffering a severe knee injury and then a leg accident prior to graduating college with a master's degree in education. Brunson fans will notice that he still requires crutches to walk, and these are his trademark beside his seat at the poker table.
Not being able to begin a career as a professional athlete, in the 1950s Brunson played high-stakes poker in Texas, starting a group of men known as the  'Texas Rounders'.  Brunson himself has admitted that on more than one occasion his gambling syndicate went bust.
In the mid 1970s Brunson moved his family to Vegas for the opportunity to play in high stakes poker. This is when Brunson won the World Series of Poker back to back, in 1976 and 1977.
No one man can claim to have influenced poker as Doyle has.  This ten-time World Series of Poker bracelet winner has gambled professionally for over fifty years. He was also the first player to earn $1 million in poker tournaments.
Doyle invented the extremely popular game Texas Hold'em.
Although in his 70s, Doyle has influenced the game of poker in ways no other professional gambler can claim.  His book "Super System", released in 1978, was the start of poker being seen as a respectable profession.  His follow up book "Super System 2", was a book of poker memoirs, and further evidence of Brunson's skill and intelligence.  "Super System" is regarded as the bible of poker.
Voted by Bluff Magazine as the number 1 most influential force in the world of poker, and described as "one of the greatest players the world will ever see", Brunson commands respect in the professional gambling world for not only his lifelong devotion to the game of poker, but also his innate ability to read other player's faces.
Brunson has famously said that "to be a successful gambler you have to have a complete disregard for money".
Just as his counterpart Ivey is known as the Tiger Woods of poker, Doyle Brunson is considered the Babe Ruth and Michael Jordan of poker.
Further Reading on Doyle Brunson
Doyle Brunson's website:
http://www.doylebrunson.com/
"Poker's Power 20: The Most Influential People in Poker"
January 2006
http://www.bluffmagazine.com/magazine/Poker%27s-Power-20%3A-The-Most-Influential-People-in-Poker-Bluff-Staff-340.htm
Doyle Brunson
Bio and Pictures, including quotes
http://www.everypoker.com/doyle-brunson
"Doyle Brunson's Poker Strategy Tips"
What Can We Learn From Doyle Brunson About Poker Tournament Strategy Tips – Find Out Here!
Doyle Brunson, poker legend and fearsome opponent in all forms of the game has a reputation built on aggression – he wins pot after pot because opponents know he is happy to get all his chips in with so much as a draw!
http://www.sitandgoplanet.com/multitable/mtt_strategy/Doyle_Brunson_Poker_Tournament_Strategy_Tips.html